We have a wide variety of room types available.

The Hotel Asyl, Nara has a wide variety of rooms available with an emphasis on the warmth of wood.
We hope you'll relax and enjoy the serenity of the ancient capital of Nara.
>>Facilities/Amenities/Services

Recommended for business travelers and those who want to enjoy sightseeing in Nara on their own.
◆Floor : 4th
◆Area : 16㎡
◆Bed Size : W1,100mmXL1,950mm

Recommended for business and day use.
◆Floor: 4th
◆Area: 19㎡
◆Bed Size: W1,300mmXL1,950mm

This room (28㎡‐32㎡)is suitable for families.
◆Floor: 3rd~4th
◆Area: 28㎡~32㎡
◆Bed Size: W1,100mmXL1,950mm

Experience the ancient spirit of Nara. Sleep in a traditional Japanese tatami room.
◆Floor: 3rd
◆Area: 10 tatami mats (about 18㎡)
※ We ask that you please lay out the bedding yourself.

We offer three different types of "superior" rooms. Relax under soft lighting and feel the warmth of wood accents.
Families, especially with small children will enjoy sleeping on a futon.  Experience this bed, the perfect expression of simple Japanese comfort.
Enjoy the aesthetics of a gently arched ceiling and smooth hinoki wood floors. The only superior room on the third floor provides a perfect Japanese atmosphere.
Our French-made beds with comfortable duvets and Simmons mattresses ensure a sound night's sleep.
Feel calm in our luxurious spaces.
◆Third and fifth floors (※The 5th floor is completely non-smoking.)
◆Room size 32㎡ - 34㎡
◆Bed Size: W1,200mmXL2,060mm


※Some rooms (including the superior room on the 3rd floor) have bed sizes that differ from the above.

An impressive room on the 5th floor with an arabesque design that reflects the unique style of the Hotel Asyl. Available from January 2011.
A set of comfortable sofas complement this suite.
A glass door separates the living room from the bedroom in case you need some quiet time.
For your convenience a small low table and Japanese-style chairs are next to the comfortable Simmons bed.
Enjoy your time in the Nara Suite which combines a sense of modern and traditional Japanese style.
◆Floor: 5th (Non-smoking floor)
◆Area: 47㎡
◆Bed Size: W1,200mmXL2,060mm

※Separate bath (with massage shower head) and toilet
※Equipped with slipper rack, shoe box, magnifying mirror, a large closet and a large mirror

With this 80㎡ maisonette suite you will have space to stretch out and relax.
◆Floor: 6th
◆Area:80㎡(Maisonette room with hinoki wood bath)
◆Bed Size: W1,100mmXL1,950mm
◆Facilities
Free wireless internet access is available in all the rooms.
◆Amenities
Pajamas, Bath towels, Face towels, Toothbrushes, Hairbrushes, Cotton balls, Cotton swabs, Shower caps, Body towel, Shampoo, Conditioner, Body soap, Hair dryer
◆Services
Hospitality Items (request any of these items)
Pants press, Iron/Ironing board, Reading lamp, LAN cable, Cell phone charger, Baggage rack, Hangers, Nail clippers, Soap, Hair dryer/curler, Humidifier, Entertainment items [Othello, Playing cards, Shōgi, Jenga], Pillows (donut-shaped, soba/urethane 580mm X 380mm), Hypo-allergenic urethane pillow (310mm X 500mm), Aqua bead pillow (430mm X 630mm)], Water pillow, Thermometer, Blanket

Contact US

Tourist Information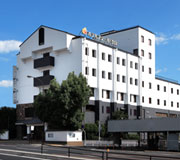 Hotel Asyl Nara
1-58 Aburasaka-cho, Nara City, Nara, Japan 630-8247
TEL : +81-742-22-2577
FAX : +81-742-26-8159
Check In : 15:00
Check Out : 11:00